Run Your Business
Instead Of Allowing It To Run You.
Are you ready to get more done and see more results? One Next Step is the most practical business podcast in the world. We aim to provide takeaways and actionable insights for you every single week so you can affect change in your business as soon as possible.
Successful Tips
Small steps that will propel you towards big business!
Done-For-You Resources
Compiled and curated tools that will move your organization forward today!
Real-World Coaching
Business street smarts that will guide you to leading with confidence!
Running a business is exciting, but it can also be overwhelming.
Ever feel exhausted by your workload and all the responsibilities you're juggling?
Or confused as to what you're supposed to be working on in the first place?
Or stuck in the same old ruts and cycles?
We get it. We understand that leading an organization is hard work, especially if you're running a small business. That's where One Next Step comes in. Let our weekly business podcast help lower your shoulders and open your mind to new perspectives on the problems you're facing.
One Next Step is the small business
mentor you've always wanted.
Meet Your Hosts: Tricia & Lisa
After working with thousands of entrepreneurs, executives, and organizations, the powerhouse remote company leaders at BELAY are committed to sharing our most simple and successful business ideas. Tricia Sciortino, BELAY CEO, and Lisa Zeeveld, BELAY CFO, aren't sharing philosophy—One Next Step is all about applicable, hands-on, real-world business knowledge that will help real-life leaders – just like you.
Subscribe to One Next Step & Start Doing Small Business Big
Apple Podcasts
Spotify
Google Podcasts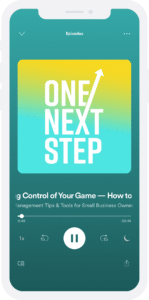 The One Next Step podcast is not only primed to help you grow your business, but it will also help you create more margin so that you can enjoy your life.

Each week, BELAY will release a new episode that answers your pressing questions about leading an organization. Each episode will highlight one next step you can take for your organization, and it will include an activation guide so that you can take immediate action to apply what you've learned today.

Get relief, clarity, and an effective plan of action. You are one simple tip, practical tool, and small step away from overcoming your current challenges and maximizing your business opportunities.
Introducing
Rise Up & Lead Well
How Leveraging An Assistant Will Change Your Life & Maximize Your Time
A new ebook to eliminate the uncertainty and get a clear plan for how to effectively use an assistant. This isn't fluff, theory, or pure inspiration. It's battle-tested tactics directly from our CEO.
Learn More