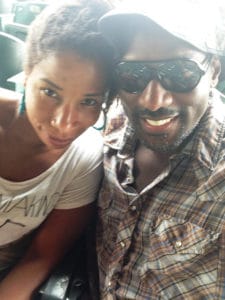 BELAY Content Writer Danielle Edwards starts her days before the days themselves get started. With the sun still tucked beneath the horizon, Danielle gets out of bed and makes a beeline to the coffeemaker. As the brew percolates, and daylight begins to peek out from the east, she and her family start to prepare for the day ahead.
After the ensuing flurry of baths, breakfasts, and goodbyes is done, and her two daughters and husband are out the door, Danielle's thoughts turn to work.
That morning ritual has been a constant in Danielle's life for over a decade, but what comes after it changed dramatically just over three years ago. In the past, Danielle would end her mornings with getting dressed for the office, commuting to work and spending eight- to 10-hour days in an office. But since moving to metro Atlanta, she's been working as an independent communications, marketing and PR consultant – and she does career branding for clients, too.
"Throughout my career in journalism, organizational communications and marketing, I often hired freelancers," said Danielle. "I always found inspiration in the freedom and flexibility they seemed to enjoy in their roles. I thought that one day I might try it for myself. After my family relocated, and I had to leave my former job behind, I had my opportunity to try."
"Now, I've found that being able to work my work (pun intended) around my life is a true blessing."
Danielle began her career as a journalist, working for a newspaper in Nashville, Tennessee. She served as a reporter and editor there for several years and covered a number of different beats in that time. While working in entertainment and lifestyle news, Danielle met and interviewed a variety of big-name musicians like John Mayer, Harry Connick, Jr., and B.B. King.
Later, she transitioned into public relations and corporate communications, and has worked in a wide range of fields, including government, corporate, higher education, and publishing.
Since joining BELAY in 2016, Danielle writes a variety of different content types, including blog posts, long-form articles, columns, and PR materials. She has worked with a number of different clients, and also helps BELAY with our own, in-house content writing. Danielle also serves other companies and clients, providing similar content services, strategic guidance and editorial assistance.
Danielle says her new line of work has its own perks.
"I most enjoy the freedom and flexibility I experience as an independent contractor," Danielle said. "I also enjoy the diversity of the projects…I am able to keep my skills fresh and enlivened as a result of the unpredictability and diversity of the work I do — with various industries, projects, deliverables, formats, tones, venues, audiences, styles and more."
In addition to the freedom and intellectual stimulation afforded by remote contracting, Danielle has also found that working with BELAY offers its own unique benefits. Danielle says that, unlike most contracting relationships, with BELAY she feels truly connected to a team.
"What I enjoy most about BELAY are the people," said Danielle. "Though we do not interact in person, and though we contractors are not involved in day-to-day operational matters, I really feel appreciated and respected by those I work with most frequently."
"Also, I feel a strong connection with the organization's avowed mission to put God first and make Him present in all that we do. I had never encountered a company with such a strong, unapologetic spiritual stance."
"Being a woman of faith and a student of the Word, I feel like BELAY really represents something different."
With BELAY, Danielle has found freedom, flexibility, and both professional and personal fulfillment. And as a.m. traffic gridlock in major metropolitan cities causes headaches for millions of commuters… Danielle gets to enjoy the view from home, over a hot mug of coffee.